Published on
December 11, 2015.
Updated: July 23, 2018
About USBDeview
The following tool is called "USBDeview" developed by Nir Sofer (2006-2013 – all rigts reserved), a tool that will allow you to see active and inactive USB devices (ghost USB devices) installed in your Windows computer by their driver name and perform a number of operations on them like uninstall, disable, disconnect, disable+enable and others. It will allow the removal of any USB device driver previously installed in your system so that you can start fresh with a device installation, thus, preventing COM port conflicts and driver update issues.
Download USBDeview for 32 & 64 bit Windows
Download USBDeview x86 bit v2.60
Download USBDeview x64 bit v2.60
---
Download USBDeview x86 bit v2.61
Download USBDeview x64 bit v2.61
---
Download USBDeview x86 bit v2.75
Download USBDeview x64 bit v2.75
How to uninstall a device driver with USBDeview
Download the archive that suits the version of Windows that you have, from the download links above;
Extract the archive content on to your desktop or anywhere on your hard-disk;

Right-click USBDeview.exe file (the one with a green icon) and select Run as administrator;
A list of USB devices that are active & connected to your PC will be displayed with a "green light";
The other USB devices for witch drivers were installed but are currently disconnected from your PC will show up with "gray light" meaning there are not in use or inactive. These USB devices will not show on to the Windows Device Manager;
Many of this USB devices are left-overs or duplicates that will only cause issues with your PC operation and might lead to conflicts with new driver installation attempts;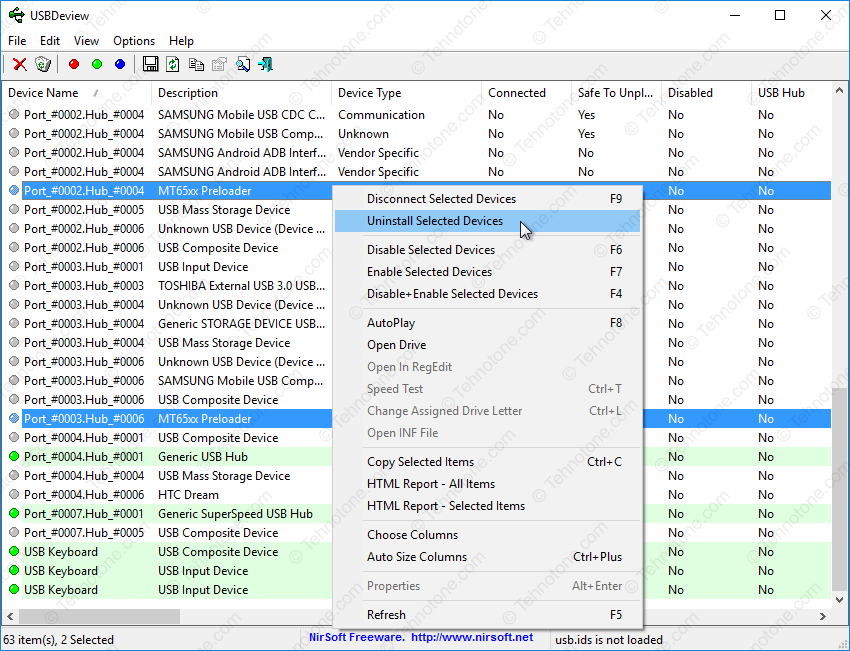 To remove such a USB device driver simply right-click on it and select Uninstall Selected Devices.