Published on
October 8, 2017.
Updated: August 16, 2022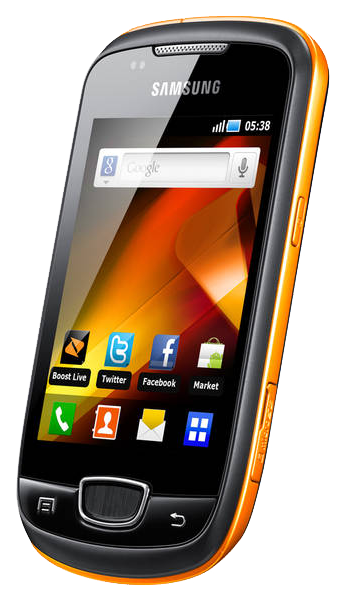 Samsung Galaxy Mini GT-S5570 (also known as Samsung Galaxy Pop in some countries) is a compact smartphone device announced by Samsung in January 2011. For a complete list of specifications for this device go to GSMArena.
The latest official Android for Samsung Galaxy Mini GT-S5570 was released by Samsung in November 2013 and was version 2.3.6 (Gingerbread). Only three years after its release Samsung discontinued the software support for this device. We live in a world where phones like this should be simply replaced as Google and Samsung couldn't care less about maintaining special versions of apps and services that suit the amount of memory and the specifications of this device and many others like it.
As most of the links on the internet providing the custom updated firmware for this device went cold, here you can still download the latest firmware for Samsung Galaxy Mini. The firmware is based on CyanogenMod 11.0.0 and brings Android 4.4.2 (KitKat) on this device:
This ROM is for those who still want to make use of this device, as it is a small and compact phone. The camera app and the 3G HSDPA connectivity are working fine using this custom built firmware. You can't expect more from this device as it has a low resolution TFT LCD screen (240 x 320 px) and a small and relatively slow amount of internal memory (160 MB), while flagship phones may get these days 100 times more internal memory.
---
Samsung Galaxy Mini GT-S5570 could be however enhanced by adding a microSD card to it (up to 32 GB). The device is still good for making an taking standard phone calls, listen to music, and other basic operations. Before you throw it away, put this Android 4.4.2 on it and buy a new battery:
Samsung Li-Ion 1,200 mAh battery model no. EB494353VU
The new Android version will drastically increase the compatibility with some of the newer Android apps. It is not recommended to use Google Services and Google Play Store on this device anymore as with the updates that were made by Google to this apps upon now, they will fill most if not all the available internal memory of this device after they will automatically update.
Remember: this device only has 160 MB of total internal memory from which about 100 MB will be available after the firmware update. To install apps I suggest using Aptoide Lite or just transfer the *.apk files on the device itself and install them manually.
Either way don't forget to enable "Unkonwn sources" in Settings > Security to be able to install standalone *.apk files. For browsing the web I suggest installing Opera Mini.
---
The firmware on this page based on CyanogenMod – CM 11.0.0 is rooted by default so you can enable root access for other apps if required, from the Settings menu.
Steps for updating the Android on Samsung Galaxy Mini GT-S5570:
Pre-requirements:
---

Flash the custom GT-S5570 recovery and ROM:

copy the CWM recovery *.zip file on the microSD card
copy the main CM-based firmware *.zip file on the microSD card
reboot the device to recovery and install ClockWorkMod recovery by browsing for the *.zip on the microSD card
reboot again the device to recovery (this time will be CWM recovery)
(optional) using CWM recovery make a software backup of the Android version on the device as instructions and files for restoring factory firmware will not be provided as part of this guide
using CWM recovery wipe data and cache partitions and then install the CM-based firmware by browsing for the *.zip on the microSD card
wait for the process to complete (the device will reboot much slower first time after the update) as it will perform initial configuration

---

Optionally you can install Google Services and the Play Store by flashing the following *.zip in the same way as you did with the previous two:
Download Google Apps >UltraSlim< for Android v4.4.x (KitKat) – Sep. 2016
This is the most we can do for this to-be-forever-forgotten Samsung device.

---

You can find more detailed information about firmware flashing and servicing the Samsung Galaxy Mini GT-S5570 in the service manual below:
Download Samsung GT-S5570 Service Manual